By Sean Golonka, The Nevada Independent, March 15th, 2023
Amid the national transition to more renewable sources of energy, Gov. Joe Lombardo's economic development office has released an updated five-year strategic plan focused on expanding the state's electric vehicle production, technological innovation and new infrastructure.
The plan is aimed at growing the state's economy, including a push to make Nevada the "lithium capital of North America," funding for new industrial parks (such as the Tahoe-Reno Industrial Center) and expanding the state's broadband and 5G cell network infrastructure.
"Nevada is positioned to be ground zero for the energy transition and to play a key role in securing the energy independence and security of the United States," the report authors wrote.
The new economic strategy — titled "Realizing Nevada's Electric, Innovative and Connected Future" and drafted by staff at the SRI International Center for Innovation Strategy and Policy — aligns with goals Lombardo shared during his January State of the State address to make Nevada "the most entrepreneurial-friendly state in the nation" and restore Nevada's reputation as a "pro-business, pro-development state."
Tom Burns, the newly appointed director of the Governor's Office of Economic Development (GOED) who previously served as president of Las Vegas-based insurance firm Cragin & Pike, is embracing the approach outlined by Lombardo.
During an interview last month, Burns said the strategic plan lays out "a vision that aligns with what the governor said about being aggressive about courting businesses" to the state.
An evolving quest to 'diversify Nevada'
GOED was established during the 2011 legislative session under Republican Gov. Brian Sandoval. The office is tasked with developing plans for economic development, increasing educational and workforce opportunities and attracting new workers and businesses to the state — a responsibility often addressed through the process of approving tax abatements and other economic incentives for companies moving into the state or planning a major expansion.
During Sandoval's tenure, the office played a key role in the growth and diversification of the Northern Nevada economy, most notably in helping bring Tesla to the state amid a multistate bidding war to become the location of the company's Gigafactory and in approving the $1.25 billion in tax abatements and incentives for the company in 2014 to build its multibillion-dollar Gigafactory at the Tahoe-Reno Industrial Center.
Since then, the region has seen strong growth in manufacturing jobs and significantly lower unemployment than in Southern Nevada, where the hospitality and leisure industry remains the key economic engine.
"They were obviously very aggressive, and we hope to have some of that down here in Southern Nevada," Burns said.
The 2011 birth of GOED dovetailed with the agency's adoption of an initial statewide economic development plan in early 2012, also authored by SRI. It marked the first of four statewide economic plans published by the office since its inception — February 2012, December 2018, December 2020 and February 2023.
Those plans highlight shifting economic priorities under different leadership from Sandoval to Gov. Steve Sisolak to Lombardo, with some mainstays over the years, including a focus on new innovations and unifying varied development priorities across the state.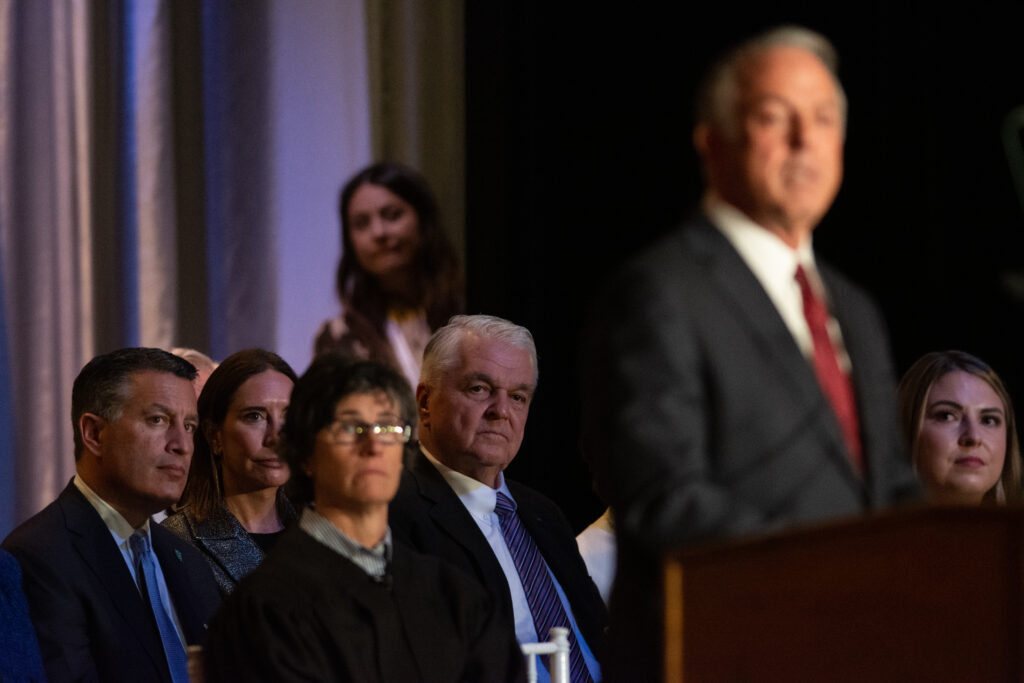 The 2012 and 2020 plans both highlight a push to expand global engagement and foreign investment, while the 2023 plan places a greater focus strictly on Nevada's role in the global energy market. Unlike previous plans, the latest report also puts electrification and renewable energy front and center, as new businesses, such as Tesla, have made Northern Nevada a hub for electric vehicle and lithium manufacturing.
Unlike the 2012 plan, which placed little focus on the Great Recession, the 2020 plan was predominantly shaped by a need for the state to recover from the COVID-19 pandemic and coinciding economic crisis, after the release of the new strategy was delayed by both the pandemic and the change in gubernatorial administrations.
The 2023 plan also heightens the state's focus on infrastructure — placing improvements to infrastructure at the center of economic development, after the 2020 plan launched a greater focus on such changes.
Burns also highlighted differences at GOED under different governors, saying the office had "much less" resources under Sisolak, a Democrat. Critical of the state's suite of tax incentives on the 2018 campaign trail, Sisolak instituted a temporary pause on abatements in 2019 amid concerns that the state was granting tax breaks to businesses paying low wages.
Looking ahead to the new administration, Burns said Lombardo has made clear that economic development is a top priority.
"The governor has been very, very frank, both publicly and privately, that he wants to be part of economic development. That's a priority of his that he will be personally involved in," Burns said. "If we come to the governor and say, 'Governor, I need you to pick up the phone and have a conversation with the CEO of this company' … I know he's on board with that."
Tension over tax abatements
Less than two months into office, Lombardo's plans for development have already provided echoes of the Sandoval era, with another landmark Tesla deal already well underway. During his State of the State address, Lombardo announced that Tesla would be expanding its Nevada operations, with plans for a $3.6 billion investment to add 3,000 new workers and two new factories.
Earlier this month, the GOED board of directors — Lombardo, Republican Lt. Gov. Stavros Anthony, Democratic Secretary of State Cisco Aguilar and six appointed members from the private sector — approved a 20-year agreement that includes $330 million in tax abatements for the electric vehicle manufacturer.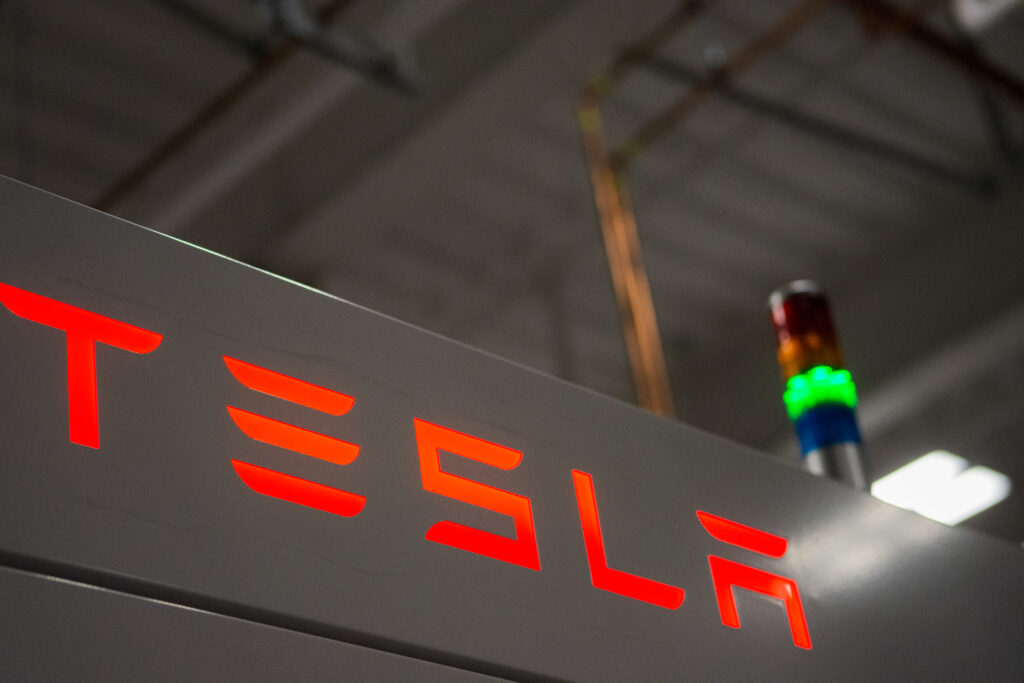 But GOED's goals for partnering with and bringing in new businesses are already facing scrutiny from Democratic lawmakers — Sen. Dina Neal (D-North Las Vegas) has said she plans to introduce legislation that would grant lawmakers more power over tax abatement deals.
Burns defended the current structure of abatements, however, when speaking to The Nevada Independent in February. As GOED works to attract new businesses to the state, the abatement process largely follows formulas set in state law, which stipulates that incentives are available for companies making certain investments in the state. GOED reviews a company's application to ensure the business is hitting all the necessary benchmarks, and the board then provides a green light for that company to receive those abatements that they've qualified for.
Critics of the abatement process have characterized it as having a "race to the bottom" effect, referring to the competition between different governments to either deregulate the business environment or reduce tax rates to attract new businesses, a process that can lead to lower wage and labor standards.
Burns described the abatements as a necessary tool "to stay in the game," pointing to other states that use additional resources to attract businesses. For example, South Carolina plans to use $226 million in general obligation bonds to help finance the infrastructure for a new $3.5 billion battery recycling facility owned by Redwood Materials. The Carson City-based company was also granted more than $105 million in tax abatements by the GOED board in December for a more than $1 billion expansion project in Northern Nevada.
"If we're really serious about diversifying, this is part of that process of being out there in a very competitive landscape," Burns said. "Abatements are not a check that we've written to anybody at all. It is a discount on taxes in a short period of time, so that we ensure that those companies are entrenched here and over the long haul, are here to pay taxes and be supportive of the community."
When looking for new companies to partner with, Burns highlighted several industries that he sees as key to growth.
"We start with information technology, IT, whether that's broadband hubs or data centers [or] cybersecurity, that's an area that we can excel in partially because of our location and our climate," he said. "We're not subject to large hurricanes or a lot of brush fires in most of our state. So we have relatively exceptional property protection in that area."
He also highlighted transportation, with Nevada having a "prime location" in the West and proximity to one of the world's largest economies in California, and advanced manufacturing, an industry that includes Tesla and Panasonic.
Lithium, infrastructure and entrepreneurship
Under three primary categories — "Electric Nevada," "Innovative Nevada" and "Connected Nevada" — GOED's strategic plan comes with more than a dozen actionable goals for the agency to carry out over the coming year, with the first set revolving around the state's transition to being a global leader in "clean energy innovations."
Following Redwood Materials' announcement to expand its lithium-ion battery recycling facility in Storey County, Burns said Nevada is "the only state in the union that has the ability to produce an electric vehicle from cradle to grave."
The strategic plan lays out how exactly Nevada can complete the so-called "lithium loop," with the ability to extract and process the metal, refine it through chemical manufacturing, use it to create electric batteries, place those batteries into electric vehicles and recycle the battery materials to be used again.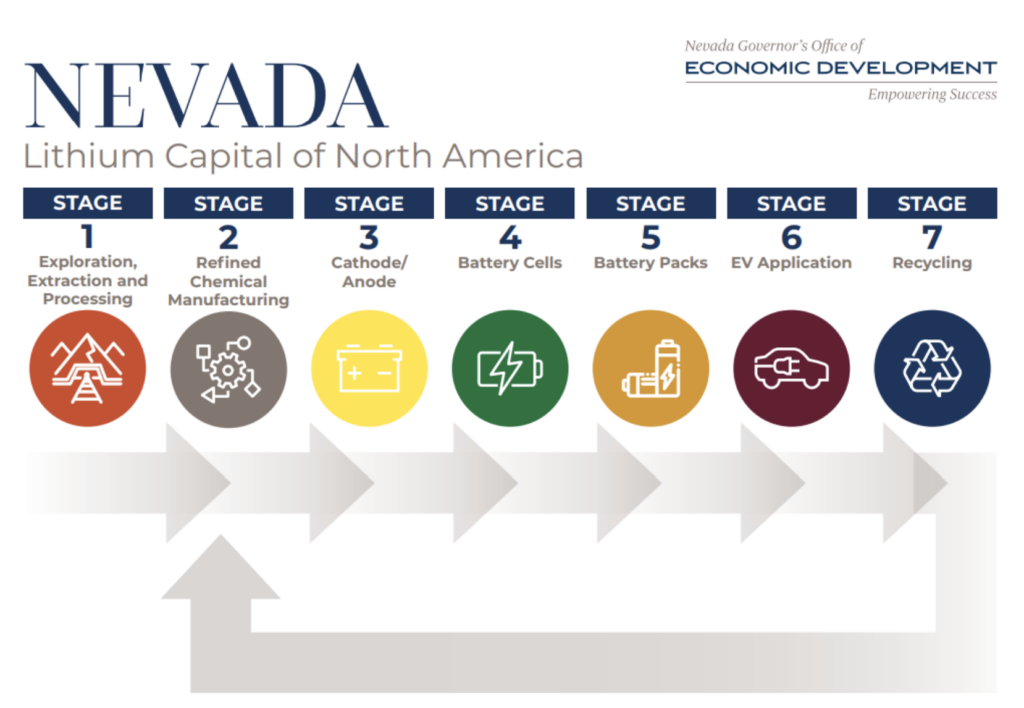 With more electric vehicles in production, the plan references Nevada's push to expand its electric vehicle infrastructure through a "full build-out" of charging centers every 50 miles along state highways. That build-out will expand on the work of the Nevada Electric Highway plan, which contributed to the establishment of hundreds of charging stations between Reno and Las Vegas.
Beyond electric vehicle and battery production, the report also highlights Nevada's ability to grow solar electricity production, including with Switch's plans "to build the largest solar project in the United States" with Gigawatt 1.
When attracting new businesses, Burns emphasized the importance of being "cognizant of our natural resources," pointing to the scarcity of water in Southern Nevada, which is facing a drought and a critical shortage of water at Lake Mead.
"We don't want to be a bad partner, either, inviting people in that need a lot of water and then not having enough to support them in the long run," he said.
Through his short time in office, Lombardo has made a push to increase entrepreneurship, highlighting a portion of the GOED plan focused on innovation. That could continue through an annual "Governor's Innovation Summit," which the report lists as a key goal in unifying different strategies for innovation between Northern and Southern Nevada.
GOED is also already on its way to providing more financial support to small and growing businesses through the State Small Business Credit Initiative. The initiative was reauthorized at the federal level, and last year, GOED announcedthat the U.S. Treasury approved nearly $113 million in funding for Nevada's program.
The innovation push could also be aided by a bill from Assembly Speaker Steve Yeager (D-Las Vegas), AB77, proposing the establishment of the Office of Entrepreneurship within GOED. Burns said he was supportive of the idea. That office would work to support new businesses less than 5 years old, and encourage a certain number of state contracts to be awarded to such businesses.
The final part of the GOED strategic plan revolves around building out the state's infrastructure to meet growing business and population needs.
That includes a push to "create a $100 million Industrial Park Infrastructure Fund for grants to build out critical facilities to make Nevada's industrial parks competitive with Utah and Arizona."
Similar to the Tahoe-Reno Industrial Center, the largest industrial park in the country and the hub for Northern Nevada's growing manufacturing economy, GOED is seeking to expand the Apex Industrial Park in Southern Nevada, as well as UNLV's Harry Reid Technology Park.
"To make it more attractive to innovation and sustainability-focused companies, a tech-ready industrial park could focus on industrial symbiosis," the report states. "Companies could gain a competitive advantage through the physical exchange of materials, energy, water, and by-products, thereby fostering inclusive and sustainable development."
Nevada will also rely on funding from the federal Infrastructure Investment and Jobs Act to expand broadband access across the state and help provide high-speed internet to more households.
Across those varied goals, Burns is ultimately focused on "creating great jobs" throughout Nevada, noting that he took the job to help move the needle on economic development in the state, and he sees that happening by relying on Nevada's natural features.
"We need to take advantage of the attributes and the assets that we have," he said.