Hundreds of millions in public money would be earmarked for new stadium
By Ryan Gaydos, Fox News, June 15, 2023
The Oakland Athletics said Thursday they were "excited" about the next steps to apply for relocation after Nevada Gov. Joe Lombardo signed a Las Vegas stadium funding bill into law.
Lombardo approved $380 million in public money to build a $1.5 billion baseball stadium for the Athletics' relocation to Las Vegas, according to the Las Vegas Review-Journal.
"I'm excited to officially sign SB1 this afternoon," Lombardo said. "This is an incredible opportunity to bring the A's to Nevada, and this legislation reflects months of negotiations between the team, the state, the county and the league.
"Las Vegas' position as a global sports destination is only growing, and Major League Baseball is another tremendous asset for the city."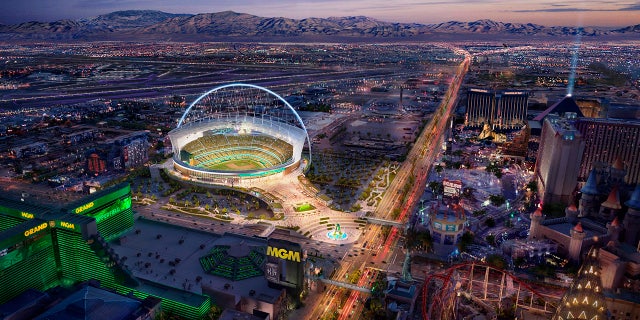 The A's later released a statement on the bill.
"Today is a significant step forward in securing a new home for the Athletics," the team said. "We thank Nevada Gov. Lombardo, legislative leaders and Clark County Commissioners and staff for their hard work, support and partnership. We will now begin the process with MLB to apply for relocation to Las Vegas.
"We are excited about Southern Nevada's dynamic and vibrant professional sports scene, and we look forward to becoming a valued community member through jobs, economic development and the quality of life and civic pride of a Major League Baseball team."
The Nevada Legislature on Wednesday approved taxpayer money to partially fund the stadium, which would seat 30,000 and include a retractable roof. The ballpark would be near Allegiant Stadium, home of the NFL's Las Vegas Raiders.
The A's, whose lease at the Oakland Coliseum expires after the 2024 season, would move from the 10th-largest TV market in the U.S. to the 40th, and the stadium capacity would be the smallest in the league.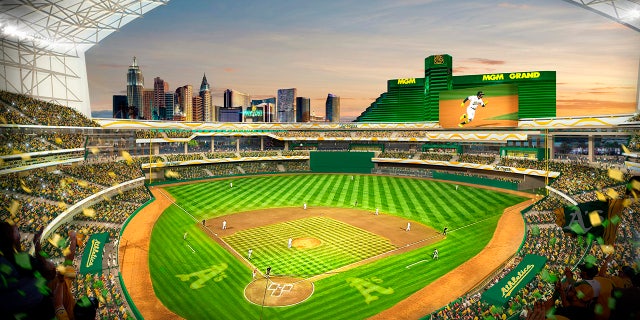 According to the Review-Journal, the construction would begin in 2024 or 2025. The ballpark would open in 2028. It's unclear where the A's would play should their lease run out without an extension.
Earlier Thursday, MLB Commissioner Rob Manfred bemoaned the team's inability to get a new stadium and defended owner John Fisher, who has been silent amid the uproar.
"I feel sorry for the fans in Oakland. I do not like this outcome. I understand why they feel the way they do," Manfred said. "I think that the real question is what is it that Oakland was prepared to do? There is no Oakland offer. They never got to the point where they had a plan to build a stadium at any site."
Major League Baseball is about to launch a monthslong approval process. Manfred said the team must submit a relocation application explaining its efforts in Oakland and why Las Vegas is a better market. A relocation committee would then define the new operating territory and television territory, then make a recommendation to Manfred and an eight-person executive council.
The council formulates a recommendation to all clubs, which must approve the move by at least a three-quarters vote.
Oakland Mayor Sheng Thao denied claims the city made no ballpark offer.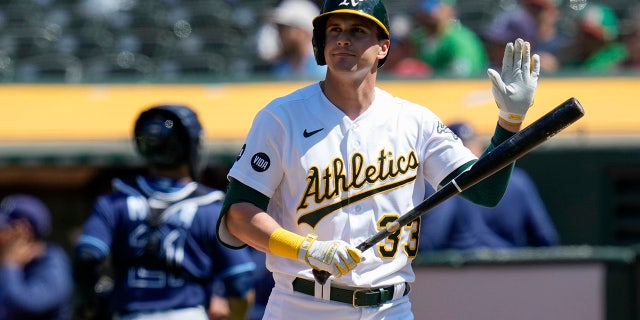 "There was a very concrete proposal under discussion, and Oakland had gone above and beyond to clear hurdles, including securing funding for infrastructure, providing an environmental review and working with other agencies to finalize approvals," said Julie Edwards, the mayor's spokeswoman.
"The reality is the A's ownership had insisted on a multibillion-dollar, 55-acre project that included a ballpark, residential, commercial and retail space. In Las Vegas, for whatever reason, they seem satisfied with a 9-acre leased ballpark on leased land. If they had proposed a similar project in Oakland, we feel confident a new ballpark would already be under construction."
Manfred said there would be no relocation fee.
"It has always been baseball's policy and preference to stay put. And I think that always colors any conversation about relocation," Manfred said. "Having said that, I think that the owners as a whole understand that there has been a multiyear and approaching a decade effort where, for the vast majority of the time, the sole focus was Oakland."
The Associated Press contributed to this report.
Ryan Gaydos is a senior editor for Fox News Digital.