By Sean Golonka June 15th, 2021 – 2:00am The Nevada Inpendent
From permanent expanded mail voting to the state public health option, the 2021 legislative session saw no shortage of headline-grabbing partisan disagreements — but a look at actual vote totals reveals that the vast majority of bills were passed with at least some bipartisan buy-in.
Out of nearly 1,200 votes on bills and resolutions during the 120-day session, 625 (53 percent) were passed with no lawmakers in opposition, and a small minority of 52 votes (4 percent) included just one "nay" vote. Meanwhile, roughly 100 votes (8 percent) happened strictly along party lines.
But there was a fourth, significant group of votes: on more than 150 votes, a minority of Republican lawmakers broke with their caucus and voted with Democrats, helping to pass bills ranging from marijuana DUI reform to expanded environmental protections.
So which Republicans were the most likely to side with Democrats?
The Nevada Independent analyzed and tallied every bill that received a recorded vote in at least one house where less than half of Republican caucus members supported the measure — a tally that includes 49 votes in the Senate and 104 in the Assembly. The analysis included any bill that received four or fewer votes from the nine-member Senate Republican Caucus and any bill that received seven or fewer votes from the 16-member Assembly Republican Caucus.
Instead of looking more broadly at all votes taken during the legislative session, focusing the analysis on the roughly 150 votes where less than half of Republican caucus members voted in favor of a particular bill offers a better view of which individual Republican lawmakers were most likely to cross party lines.
Because Democrats control both the Assembly and state Senate, no Republican-sponsored bills with even a whiff of partisanship made it to a full floor vote, though a handful of Democratic lawmakers proved willing to buck their party on a smaller number of votes.
The analysis reveals that Sens. Ben Kieckhefer (R-Reno) and Heidi Seevers Gansert (R-Reno) were the most likely to break with their caucus and vote with Democrats in the state Senate. On the Assembly side, Jill Tolles (R-Reno), Tom Roberts (R-Las Vegas) and Melissa Hardy (R-Henderson) most often broke with the rest of their caucus and sided with Democrats.
The guide below aims to take a look at what kinds of issues were at play when Republicans chose to break with the majority of their caucus on a particular issue — including high-profile votes on a new mining tax and a Democrat-backed effort to change Nevada to a presidential primary state.
We've double-checked our work to make sure we've counted every vote, but if you spot something off or think a vote wasn't counted, feel free to email [email protected].
SENATE
Ben Kieckhefer: 36
Heidi Seevers Gansert: 33
Kieckhefer and Seevers Gansert voted with Democrats and against the majority of the Republican caucus 30 times, including eight times as the only two Republicans joining Democrats in support of a measure. Kieckhefer is termed out after the 2021 session and cannot run for re-election, and Seevers Gansert will not face voters until 2024 after winning her re-election race last year.
Both lawmakers broke party lines to join all Democrats in favor of AB115, allowing multiple parents to adopt a child, and AB181, a bill aimed at improving mental health parity and reporting on cases of attempted suicide.
Kieckhefer and Seevers Gansert were also among four Republican senators who voted with Democrats in favor of AB495, a bill that creates a new excise tax on the gross revenues of gold and silver companies, estimated to bring in an extra $150 million to $170 million a biennium for education. As the measure passed in the waning days of the session, Kieckhefer said the benefits of the bill outweighed the drawbacks, and Seevers Gansert pointed to the enhanced education funding as reason for voting in favor. The bill required a two-thirds majority to pass, as it created a new tax.
Seevers Gansert and Kieckhefer rarely broke from each other when crossing party lines to vote with Democrats. In one instance, Seevers Gansert was the lone Republican who sided with Democrats on SB237, a bill aimed at giving more support to LGBTQ-owned businesses, while no other Republicans did so. Kieckhefer had no such votes.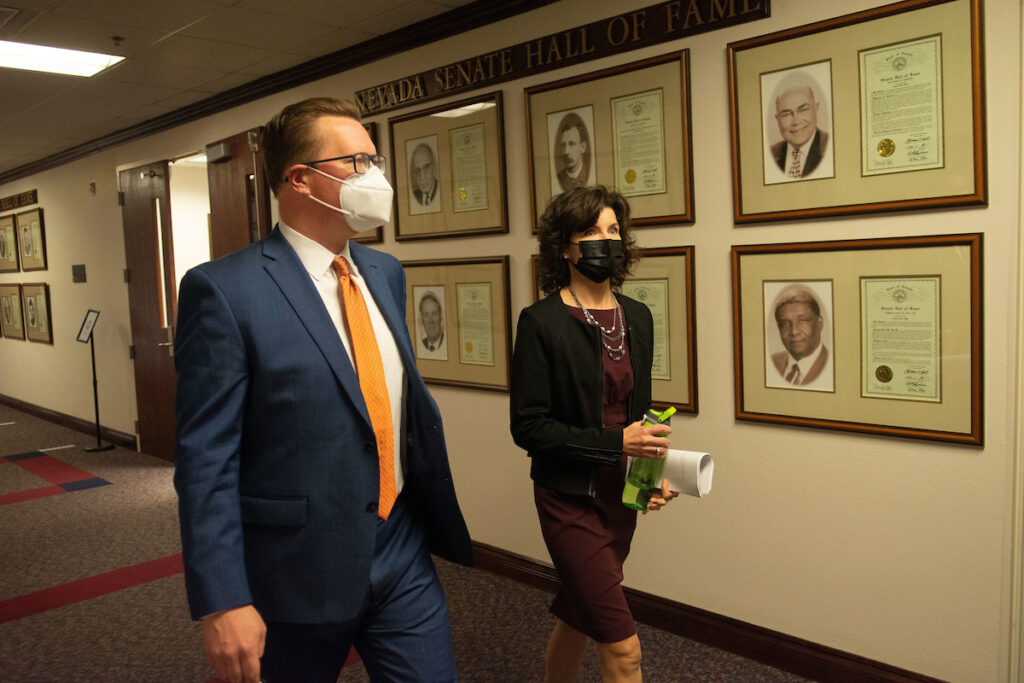 Pete Goicoechea: 20
Goicoechea joined Democrats as the lone Republican in support of AB148, which revises the application requirements for obtaining a permit to engage in an exploration project or mining operation.
He joined Kieckhefer and Seevers Gansert as the only members of their caucus to vote in support of AB126, which eliminates Nevada's presidential caucus and replaces it with a primary election, and also aims to make the state first in the presidential primary calendar — ahead of New Hampshire and Iowa.
Goicoechea also broke from the majority of the Republican caucus to vote with Democrats in support of a few environment-related measures, including AB146, which expands efforts to mitigate water pollution, and AB71, which makes rare plant and animal locations confidential. The Eureka Republican is in his final term of office after winning re-election in 2020, and cannot run again in 2024.
Joe Hardy: 17
Hardy, who is termed out after this session, voted as the lone Republican in support of bills in the Senate more often than any other member of his caucus.
The Boulder City-based lawmaker joined Democrats as the only Republican in favor of SB61, which creates the Nevada Committee of Vendors Who Are Blind, as well as three other Democrat-sponsored bills — including a measure backed by Assembly Speaker Jason Frierson (D-Las Vegas), AB308, which requires a three-day grace period before landlords can charge late fees for overdue rent.
Hardy was one of three Republicans in the Senate who voted in favor of AB400, which removes "per se" limits on the amount of marijuana metabolite that can be in a person's blood to trigger a DUI, though the limits remain when someone is facing a felony charge. He was also one of two Republicans in the caucus to back another marijuana-related bill, SB122, which requires occupational training for employees of cannabis establishments.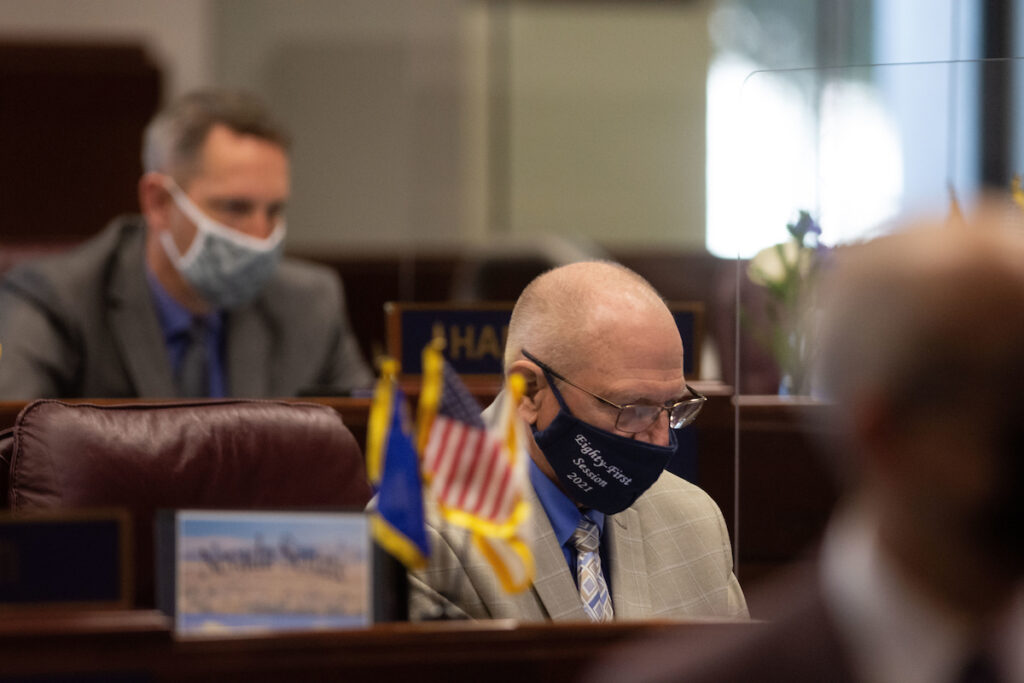 Scott Hammond: 14
The northwest Las Vegas Valley lawmaker was one of four Republican senators who voted in support of a new tax on the mining industry. Hammond previously said he would vote in support of the bill, AB495, "for all of our state's students."
Hammond also joined Democrats in voting in favor of AB296, which allows victims of 'doxing' to bring a civil action to recover damages, and SB450, which allows school districts to use excess revenue from existing tax rates to fund "pay as you go" capital improvement projects, such as remodels and needed facility upgrades.
Keith Pickard: 6
Along with Kieckhefer, Seevers Gansert and Hammond, Pickard voted in favor of the new excise tax on the mining industry through AB495, also citing increased education funding as reason for his support.
Pickard was also one of three Republican senators who voted in favor of removing "per se" limits on non-felony DUIs involving marijuana (AB400), and the Henderson-based legislator joined Kieckhefer and Seevers Gansert in voting in favor of raising the minimum age to buy tobacco products from 18 to 21, in line with federal law (AB59).
Ira Hansen: 5
Hansen was one of two Republican senators (along with Hardy) to record votes as the sole GOP member siding with Democrats on multiple votes.
Hansen was the only Republican who voted in favor of protecting the Spring Valley population of Rocky Mountain junipers, known as "swamp cedars" (AB171). Prior to the vote, Hansen had angered some Native advocates when he rebutted the historical accuracy of testimony shared by tribal leaders and elders.
He also was also the only member of his caucus to support SB349, which would have allowed unpackaged produce to be sold in farmers markets, but the legislation failed to advance in the Assembly.
Carrie Buck: 3
The freshman legislator rarely broke from the majority of the Republican caucus, only doing so to support an extension on school use of excess revenue for facility upgrades (SB450), cage-free eggs (AB399) and a clarification on registration requirements for lobbyists (AB110).
James Settelmeyer: 2
The Senate minority leader broke from the majority of his party less than any other Republican senator, only joining Democrats in support of two measures.
Settelmeyer joined Hardy and Pickard in support of removing "per se" limits on non-felony DUIs involving marijuana (AB400) and voted with Kieckhefer, Pickard and Seevers Gansert in support of a measure revising the issuance of orders for protection against high-risk behavior (SB6).