By Howard Stutz, The Nevada Independent, March 28th, 2023 
Depending on where you look, February was either another stellar month for Nevada gaming revenue or the second consecutive monthly decline in casino revenue totals.
Statewide, Nevada casinos collected nearly $1.24 billion in gaming revenue during February, the highest figure ever recorded for the month, the Gaming Control Board said Tuesday. The figure marked the 24th consecutive month gaming revenue has topped the $1 billion mark.
Southern Nevada fueled the increase with casinos throughout Clark County collecting a combined $1.08 billion in gaming revenue, led by the Strip, where casinos earned almost $712.5 million from customers, an increase of 18.9 percent from a year ago.
Clark County has now recorded 10 straight months of $1 billion or more in gaming revenue.
In Northern Nevada, however, casinos in Washoe County saw a nearly 8.1 percent year-to-year revenue decline to $76.8 million. Reno casinos reported a 10.4 percent revenue drop to $54.5 million.
Michael Lawton, the control board's senior economic analyst, blamed Northern Nevada's winter weather conditions for the decrease.
"Absolutely weather impacted Northern Nevada results in February," Lawton said. "The timing of the storms impacted nearly every weekend during February."
Results from Sparks casinos went against the downward trend with a 4.9 percent revenue increase during February. The market is benefiting from the August opening of Legends Bay. Through February, gaming revenue in Sparks is up 10.7 percent.
Casinos, especially on the Strip, were up against reduced numbers from a year ago because of the omicron variant, which suppressed February 2022 totals, although the state still recorded $1.1 billion in gaming revenue with the Strip accounting for $599 million, helped in part by the Chinese New Year celebrations. In 2023, the Chinese New Year fell into January.
Gaming analysts expected a strong February from Strip resorts, given the upbeat commentary from company executives on fourth-quarter earnings conference calls.
"Strip-centric operators MGM Resorts International and Caesars Entertainment sounded best, though all companies were upbeat," Wells Fargo Financial gaming analyst Daniel Politzer wrote in a Feb. 27 research note.
"Las Vegas Strip bookings strength is highly visible through at least May, and with the group now fully recovered, operators are benefiting from rate compression and more balanced demand," Politzer wrote.
Lawton said there were just a handful of special events in Las Vegas that played a part in the gaming revenue increase. Bruno Mars had a residency at Park MGM in the first half of the month, and downtown Las Vegas saw another casino added to the market with the opening of Red Rock Resorts' Wildfire Fremont near the Boulder Highway.
High-end baccarat play on the Strip accounted for $102.5 million in revenue, an increase of 62.7 percent, on wagers of $696.8 million, an increase of 18.6 percent. Casinos held 14.7 percent of all baccarat bets, compared to a hold percentage of 10.7 percent last year.
Nevada collected more than $75.5 million in gaming taxes based on the February results, according to the control board. For fiscal year 2023, the total for nine months is up almost 1.6 percent to $722.5 million.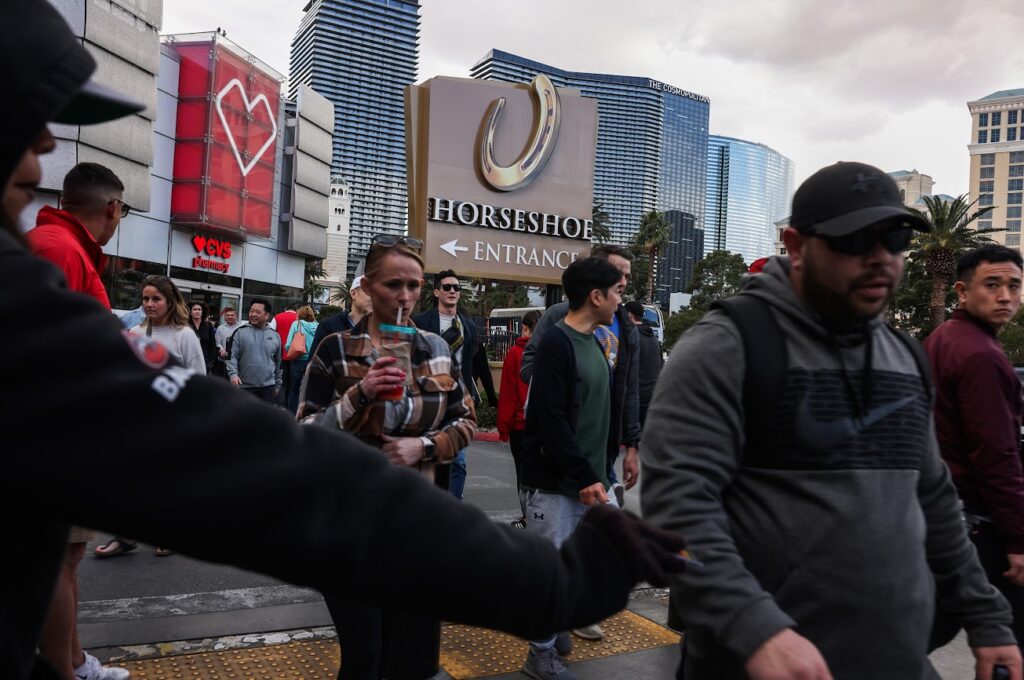 Las Vegas visitor volume jumps
The effects of omicron diminished tourism numbers in February 2022, but with the virus in the background a year later, coupled with Super Bowl LVII, Las Vegas visitor volume jumped 17.8 percent last month.
The Las Vegas Convention and Visitors Authority said just under 3.1 million visitors came to Las Vegas in February, which included more than 663,400 convention attendees, a 51 percent increase from a year ago.
For the first two months of 2023, Las Vegas visitor volume is up 25 percent over 2022 and convention attendance has shown a 59.6 percent increase during that time.
Overall hotel room occupancy was 82.2 percent in February, up nearly 13 percent from a year earlier, while occupancy on weekends climbed 2 percentage points from a year ago to 89.3 percent.
The average daily cost for a hotel room in Las Vegas during February was $176.64, up 18.1 percent from February 2022 when rooms averaged just under $150 per night.
Meanwhile, the revenue per available room — an accounting figure used by analysts to measure profitability — was $145.20 in February, up more than 40 percent from a year ago.
Headwinds coming?
For the first two months of 2023, statewide gaming revenue is up 14.5 percent from 2022's record $14.8 billion mark.
Strip revenue is up 22.2 percent, downtown casino revenue is up 16.4 percent and the Las Vegas locals market is up 10 percent. All four submarkets set single-year records in 2022, including the Strip's $8.2 billion figure.
Washoe County gaming revenue is down 10.4 percent through February with Reno's gaming market down 14.6 percent.
The challenge for the casino industry is coming in March. A year ago, omicron had subsided and state gaming revenue was $1.355 billion, the second-highest all-time record, falling just short of the July 2021 total of $135.9 billion.
Politzer told investors he expects gaming results from the Strip will grow in 2023, given the recovery in group meetings and convention business, a return of international visitation and the heavy interest in November's Formula One Las Vegas Grand Prix, which has already attracted worldwide interest.
Sports betting revenue up, wagering down
The decline in Super Bowl wagering from last year played a small part in February's sports betting total.
Sportsbooks collected revenue of $43.1 million last month, a 33.5 percent increase from 2022. Sports wagering, however, declined 15.6 percent to $659.4 million.
Lawton said Super Bowl LVII was responsible for the majority of the wagering in the football category in February, which saw $153.2 million in wagers and $5.5 million in revenue. The revenue from all football bets in the month was $9.4 million.
During February, mobile sports wagering in Nevada accounted for 61 percent of all sports bets.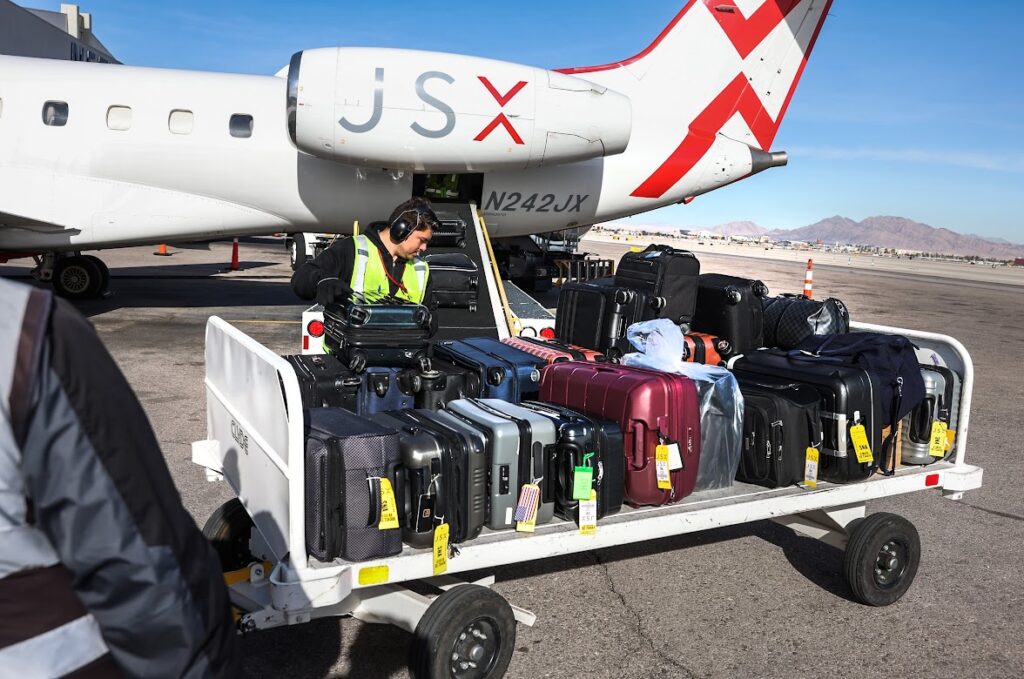 Reid Airport sets record for February
Harry Reid International Airport serviced almost 4.2 million travelers during February and, after the first two months of 2023, the destination is now 32 percent ahead of 2022's record 52.6 million passengers.
Not only was February 2023 a record month for Reid Airport, but it also marked the first time the location drew 4 million passengers in the year's second month. Reid has now opened the year with two straight months exceeding 4 million passengers.
International passengers totaled 202,998, more than doubling the total from February 2022.
Southwest Airlines, Reid Airport's busiest air carrier, topped more than 1.4 million passengers in February, a nearly 22 percent increase from a year ago. Through the first two months of 2023, Southwest has serviced more than 2.9 million passengers, a 27.4 percent increase from a year ago.
Updated at 11:44 a.m. on 3/28/2023 to include Las Vegas tourism numbers for February.