By Eric Neugeboren, The Nevada Independent August 7th, 2023
It's rare to be a moderate in Nevada's Legislature — and there's no sign of that changing.
In the past seven legislative sessions, just 15 percent of legislators were more likely to vote toward the middle of the ideological spectrum in a given session than toward the farthest left or right, according to a Nevada Independent analysis. The only group that has consistently formed a moderate bloc is Republican assemblymembers.
But that group shrunk this year as Democrats regained a legislative supermajority and Republican Joe Lombardo became governor. Lawmakers and political scientists said in interviews that party control can affect partisanship, as legislators are less likely to dissent when their party has power.
"You had to talk to each other more in order to make sure that the legislation got right," Jill Tolles, a former Republican assemblywoman, said about governing when neither party has sweeping control.
The findings result from a Nevada Independent analysis that collected all roll call votes from legislative sessions since 2011, which is the earliest data available from LegiScan, a website that tabulates votes from Congress and state legislatures.
The votes were then run through software created by political science professors from UCLA, the University of Southern California, the University of Georgia and Rice University. The software has become a popular way for journalists and political scientists to analyze lawmakers' political leanings and political polarization.
The software analyzes the votes and devises a chart that maps where lawmakers fall on the ideological spectrum. A lawmaker's place on the chart is based on which other lawmakers they were most likely to vote alongside. The software does not take into account unanimous votes, times when a lawmaker missed a vote and the specific details of legislation.
The software rates a lawmaker's political lean on a scale of -1 to 1. Lower numbers indicate times when legislators were more likely to vote alongside Democrats, while higher numbers indicate a Republican lean. Moderates tend to hover around the middle.
Since 2011, nine Assembly Republicans had voting records that saw them cross the scale's middle mark toward the left in a given legislative session, including former Minority Leader Pat Hickey and Tolles, the former assemblywoman, who did so in two of her three legislative sessions. No Democrat has ever come close to the center.
"Democrats are pretty much of the same mind," Hickey said in an interview about partisanship during his three terms in the 2010s. "They seem to comply or get in line with leadership … much more so than Republicans."
Ideology changes over time
When Sen. Pete Goicoechea (R-Eureka) entered Nevada politics in 2002, it was like the "old Nevada politics," with fewer discernible differences between the parties.
More than two decades later, he has seen party politics take over. He said meetings between key figures are now rare because "the sides are so far apart, there's nothing to be gained."
The number of moderates has ebbed and flowed over the past dozen years, according to the analysis. Lawmakers also rarely buck their party — 2 percent of votes in this year's session were the result of a legislator voting against the majority of their party.
Assembly Republicans have been the only group to see members approach the middle of the ideological spectrum — particularly in 2015. That session marked the start of Republican Gov. Brian Sandoval's second term and the first time in nearly 50 years that Republicans held control of the governor's mansion and both legislative chambers.
In 2015, the average ideological score for Republicans in the Assembly was 0.37, which means they were more likely to be in the middle of the political spectrum than all the way to the right. That year, a large group of Assembly Republicans split with their sharply anti-tax colleagues and joined Democrats to pass Sandoval's proposed $1.1 billion tax package.
"There was a real divide in the Republican Party between ultra conservatives and more traditional Republicans like myself," said Hickey, the former Assembly minority leader. "Sandoval and a number of Republicans who agreed with him acted in a more moderate, or if you will, bipartisan fashion."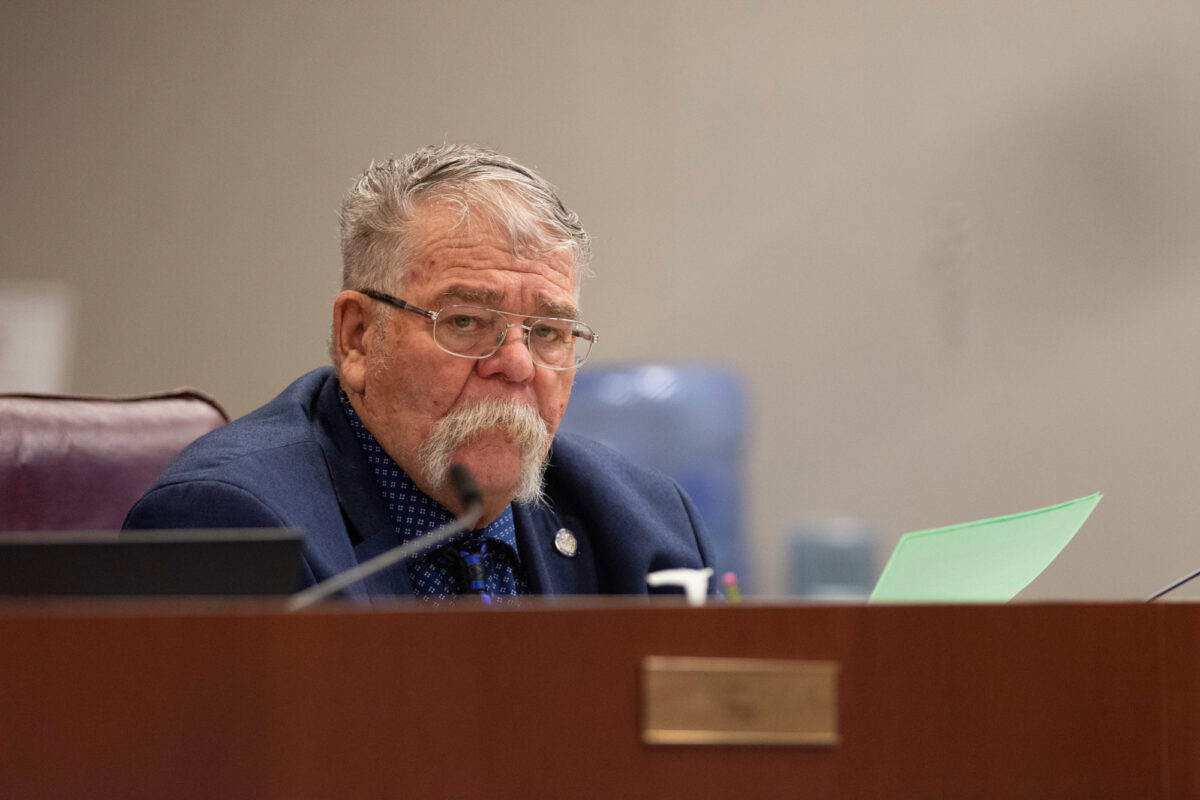 It was a rare example of intraparty divides among a party that controlled the Legislature. Typically, that kind of division occurs when a party is not in power, as shown through Democrats' cohesion while controlling the Legislature, said David Damore, a political science professor at UNLV.
"They're not going to bring bills that divide their own party," Damore said.
Partisanship increased in 2017 after Democrats retook control of the Legislature, but most Republican assemblymembers still ended the session with voting records that placed them closer toward the middle rather than the right.
The moderate faction of Republican assemblymembers also shrunk in 2019. Democrats had just secured full control of state government, including a supermajority in the Assembly. The number of moderates jumped in 2021 after Democrats lost their supermajority.
2023 partisanship
In this year's session, five Republican lawmakers were closer to the middle of the spectrum than the far right, while Democrats all remained closely bunched together on the left.
But the moderate bloc was generally smaller than in past legislative sessions, as Assembly Democrats regained a two-thirds supermajority — allowing legislators to clear major constitutional thresholds without the other side's support, including overriding a gubernatorial veto. Democrats in the Senate remained one seat short of a supermajority in 2023.
The Republican closest to the middle was Assemblyman Gregory Koenig, a freshman who represents rural parts of the state including Fernley, Fallon, Hawthorne and Yerington. His predecessor — Sen. Robin Titus (R-Wellington), who now represents much of the same area in the Senate — had a political lean this year that was the farthest right on the spectrum of any politician.
More than 46 percent of voters in Koenig's district are active registered Republicans, which is the second-highest rate of any Assembly district. Less than 15 percent of voters in his district registered as Democrats, according to the latest voter registration data.
In an interview, Koenig said he does not simply want to go with the party line. While there are policies he says he would never compromise on, including gun rights and election security, he said there are many opportunities for lawmakers to find common ground.
"Some of those bills that my party didn't completely get behind, in my mind was a 'common sense, do what's right for the people' bill," Koenig said. "I think we might be better off if everyone was maybe a little more in that direction."
But Koenig was an outlier. His rural district is the lightest red hue of any member on a map of assemblymembers' ideological scores. Assemblyman Toby Yurek (R-Henderson), another freshman, was the second closest Republican to the middle of the ideological spectrum, though nine of the 14 Assembly Republicans had partisan scores greater than 0.6 — making them closer to the far right than the middle.
Generally, the map of ideological scores closely resembles the overall political landscape in Nevada. Most of the state land is deep red, with sprawling, sparsely populated rural areas leaning heavily Republican and taking up a far lower share of the state's legislative seats. Deep blue pockets emerge in the densely populated Las Vegas and Reno areas.
The Senate map is deeper red than the Assembly map, indicating the stronger partisanship that exists in the upper house.
"In the Assembly, most are new or freshmen and a lot more willing to work together across party lines and talk about what's really, really good for the state," said Goicoechea, who has served in both chambers. "As you get into the Senate, there's only half as many, typically older and more seasoned, and I hate to say it but probably, to a certain extent, more entrenched."
Senate Minority Leader Heidi Seevers Gansert (R-Reno) has the lightest shade of red of any Republican senator. She is a longtime fixture in Nevada politics and has focused on matters such as nursing shortages and school safety, rather than the social issues, including abortion and transgender rights. Seevers Gansert, who announced this week she will not run for re-election in 2024, bucked the majority of her party 47 times this year, the most of any GOP lawmaker.
Seevers Gansert's ideology score has consistently hovered around 0.5, which means she tends to vote in between a typical moderate and the farthest-right Republican. After the Democrat-controlled redistricting process in 2021, her district's Democratic voter registration advantage over Republicans increased from roughly 1 point to more than 6 points.
Sen. Scott Hammond (R-Las Vegas) was also among the more moderate Senate Republicans on the chart. He represents the northwest suburbs of Las Vegas, one of the few right-leaning pockets of Clark County.
Hammond bucked the GOP majority 39 times this year, including his notable siding with Lombardo and Senate Democrats to break a budget impasse that had required a special session.
Damore, the political science professor, said the partisanship in the 2023 session aligns with a trend of the "nationalization of state legislatures," where state legislators prioritize issues that are salient on the national level. That leads to a polarization increase on the state level, just as it has on the national level.
With the Legislature operating under Democrat-drawn maps for the rest of the decade, Damore expects the dynamic of the 2023 Legislature to keep repeating.
"I think they're gonna control the agenda," Damore said. "You're going to probably see something that looks a lot like this: cohesive Democratic voting and picking off Republican votes."