By Rocio Hernandez, Naoka Foreman, Carly Sauvageau, Jannelle Calderon, and Michelle Rindels, The Nevada Independent, June 8th, 2023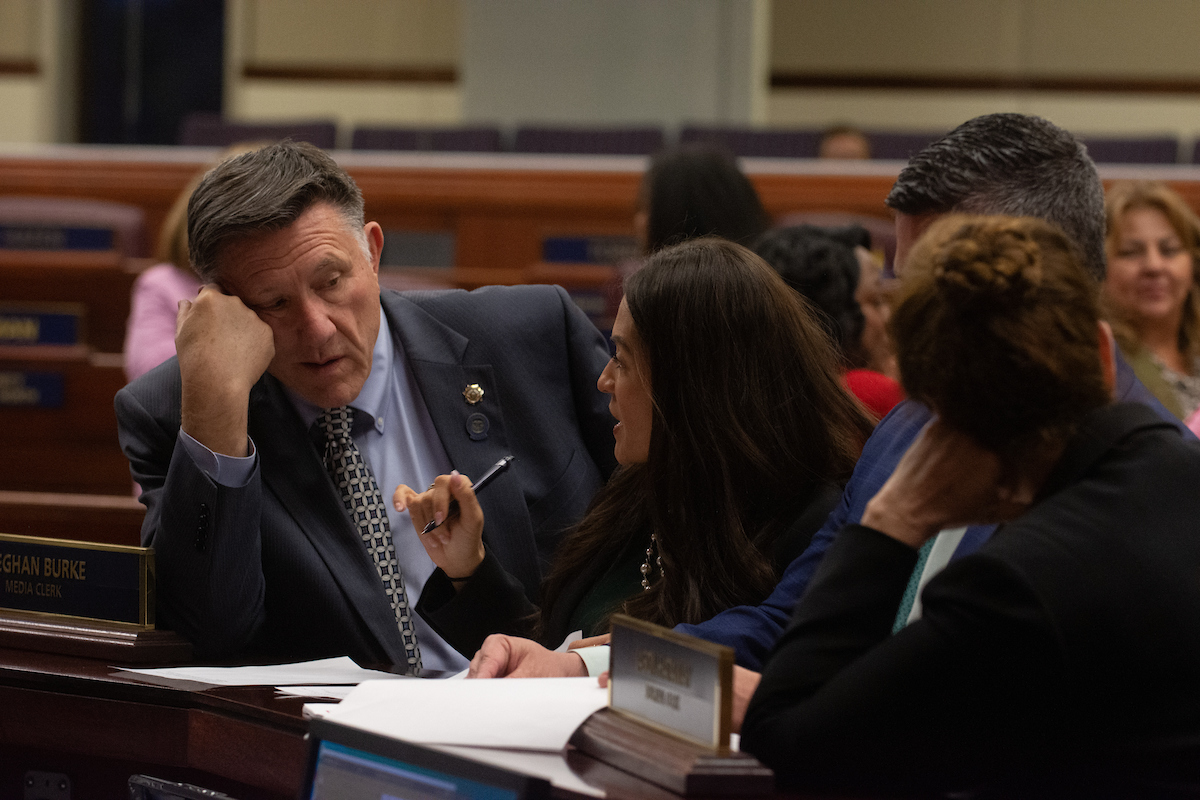 When the Legislature's regular session adjourned sine die on Monday, scores of the thousands of bills introduced hit the dust.
Some were left behind as part of high-level deals between the governor and legislative leaders, and others were simply considered too fraught or too expensive to advance in the 120-day session.
Below are highlights of some of the most notable measures to fail when the legislative clock ran out.
Capital Improvement Program bill
The most prominent casualty of deadline day was the Capital Improvement Program bill (AB521) — one of five pillars of the state budget and the measure that supports about $1.5 billion in construction and maintenance of government buildings.
The capital improvement plan supports projects ranging from building a new DMV office in Las Vegas ($106 million) to replacing the problem-plagued Grant Sawyer building in Las Vegas ($214 million), and from remodeling a nursing home for veterans ($100 million) to tens of millions for security upgrades at prisons. It is also viewed as a jobs bill that supports the construction industry.
Because it renews a property tax and thus requires a two-thirds supermajority — something Democrats cannot achieve on their own — it served as a crucial bargaining chip for Republicans in the minority. In the final hour of session, they withheld their support, saying Democrats had treated their modest requests for charter school funding and medical residencies with "disdain."
Gov. Joe Lombardo called for a special session of the Legislature on Tuesday specifically for the Capital Improvement Program budget. Lawmakers passed the bill in the two-hour special session after one Republican — Sen. Scott Hammond (R-Las Vegas) — voted in support of the bill.
A's bill
Perhaps the most headline-grabbing failure of the regular session was for a bill aimed at attracting the Oakland A's to Las Vegas. SB509 would have offered up to $380 million in public financing to help construct a $1.5 billion stadium on the Las Vegas Strip.
The bill, backed by Gov. Joe Lombardo's office, had a joint hearing before Senate and Assembly members on Memorial Day. However, it never got any votes from committees or the full houses before the Legislature adjourned.
However, Lombardo called lawmakers into a special session on Wednesday to consider a public funding package for the Major League Baseball franchise similar to what was presented in SB509.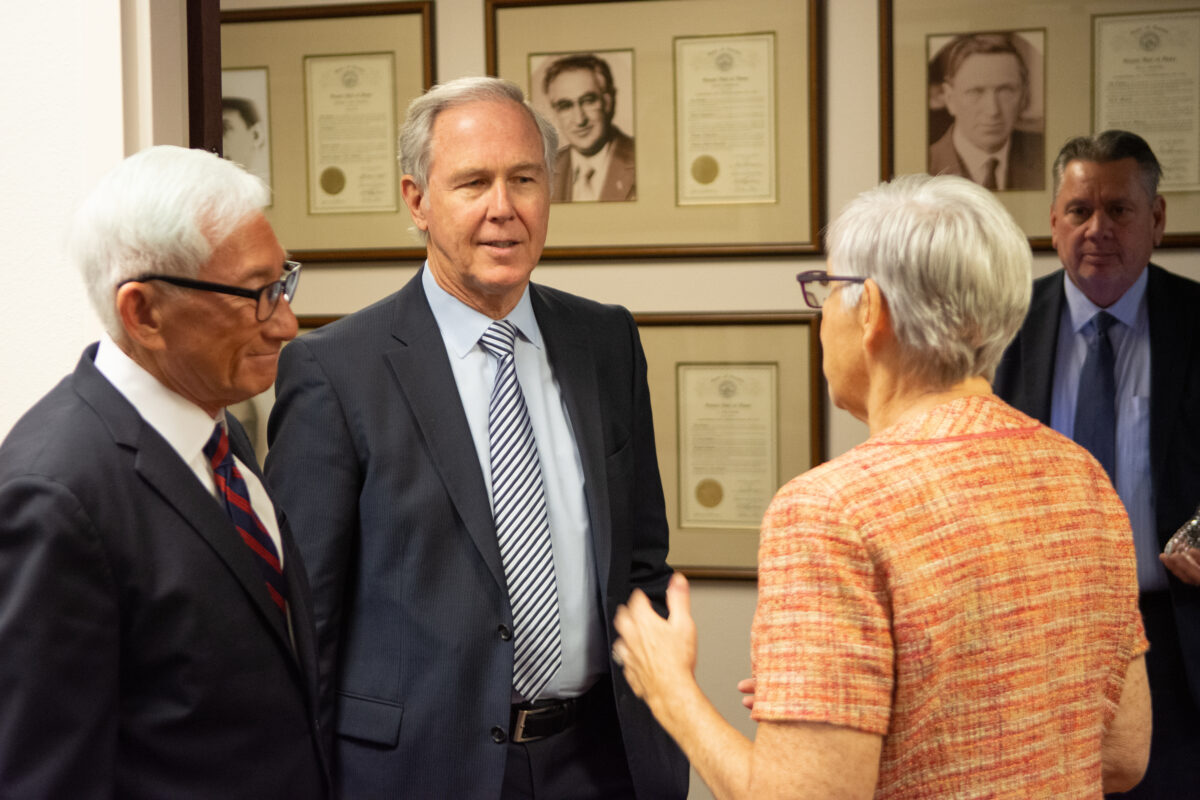 Film tax bill
Despite interventions from celebrities including Mark Wahlberg and Jeremy Renner, a plan to authorize up to $4 billion in tax credits to attract more film production to Nevada died in the Senate Finance Committee before making it to either full house for a vote. SB496, sponsored by Sen. Roberta Lange (D-Las Vegas), would have dramatically ramped up the size of a tax incentive program for movie and TV production and came as developers seek to build studios in the state.
Lombardo and Republican priorities
Although Lombardo vowed to push for voter ID and other changes to elections, the Democrat-controlled Legislature never entertained the idea. SB405, a bill from the governor's office that would have implemented many of the governor's proposed changes to elections, was granted a waiver from deadlines but never received a hearing or floor vote.
The governor, in his State of the State address, promised to raise the annual revenue threshold at which businesses must start paying the Commerce Tax from $4 million to $6 million, and his plan to give Nevada drivers a yearlong break on a state gas tax of nearly 18 cents a gallon, met a similar fate. SB502, which featured those provisions, never got a hearing.
Lawmakers also ignored long-shot Republican bills including SB200, a proposal from Sen. Scott Hammond (R-Las Vegas) to apply $60 million to fund the Education Savings Accounts — a school choice program with broader eligibility than Opportunity Scholarships.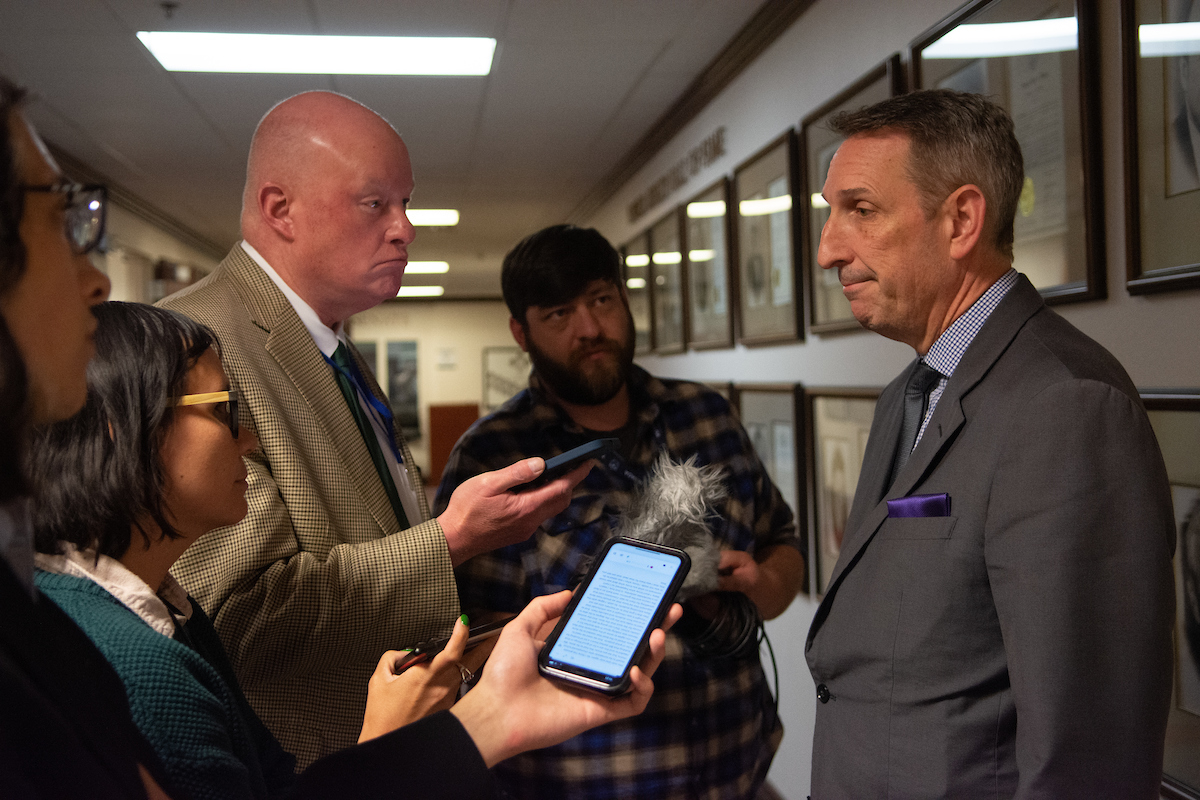 K-12 education
A controversial effort to change sexual education in Nevada from an opt-in to an opt-out system, AB357, proved unsuccessful yet again this session. It picked up steam when it passed out of the Assembly in a 28-14 vote late in the session, but died after failing to get a hearing and vote from the Senate Finance Committee.
SB100, which would have appropriated $60 million to the White Pine County School District to construct a new school building to replace its elementary and middle schools, both more than a century old, got a hearing last week in the Senate Finance Committee, but failed to advance any further.
During the hearing, lawmakers suggested that the district reach out to neighboring counties, local mining companies and others for funding support. Lawmakers also suggested the property tax increase envisioned in a separate bill, AB519, could help the district raise funds for the new school, but the district said the amount that tax increase could generate would not be enough on its own.
Similarly, a bill brought by Sen. Scott Hammond (R-Las Vegas) that would have required cameras in certain classrooms to protect students with disabilities didn't go far this session — passing out of a policy committee but languishing in the Senate Finance Committee. It was Hammond's third time trying to get this legislation passed. Hammond argued that the bill (SB158) would have students who are nonverbal and can't communicate what happens to them in the classroom.
Other education-related bills that failed to make it to the finish line include:
Housing
Housing and services for the unhoused were hot topics this session, and though lawmakers advanced several bills promising funding for services for unhoused people and more restrictions on rent increases, some bills did not make it through the session.
That includes SB68, which proposed setting aside some of the real property transfer tax to a Critical Needs Fund for supportive housing. It died after advancing without recommendation from the Senate Committee for Revenue and Economic Development in April.
SB143, a bill by Sen. Dina Neal (D-Las Vegas) that would have prohibited landlords from refusing to rent to a person who had been acquitted, granted a pardon or otherwise exonerated for a crime, also never made its way to the governor's desk. The bill was voted on in the Assembly Committee on Government Affairs and referred to a budget committee, but no additional action was taken.
Sex work
Lawmakers this session failed to advance AB145, a bill that sought to crack down on people looking to illegally purchase sex with several bills increasing jail time, fees and public documentation of consumers. The bill passed unanimously out of the Assembly but never received a hearing in the Senate.
This bill was supported by some law enforcement agencies, including the Regional Human Exploitation and Trafficking (HEAT) unit in Northern Nevada. However, AB145 was criticized by those involved in the sex industry, with many saying the harsher penalties for consumers would lead to unsafe environments for sex workers.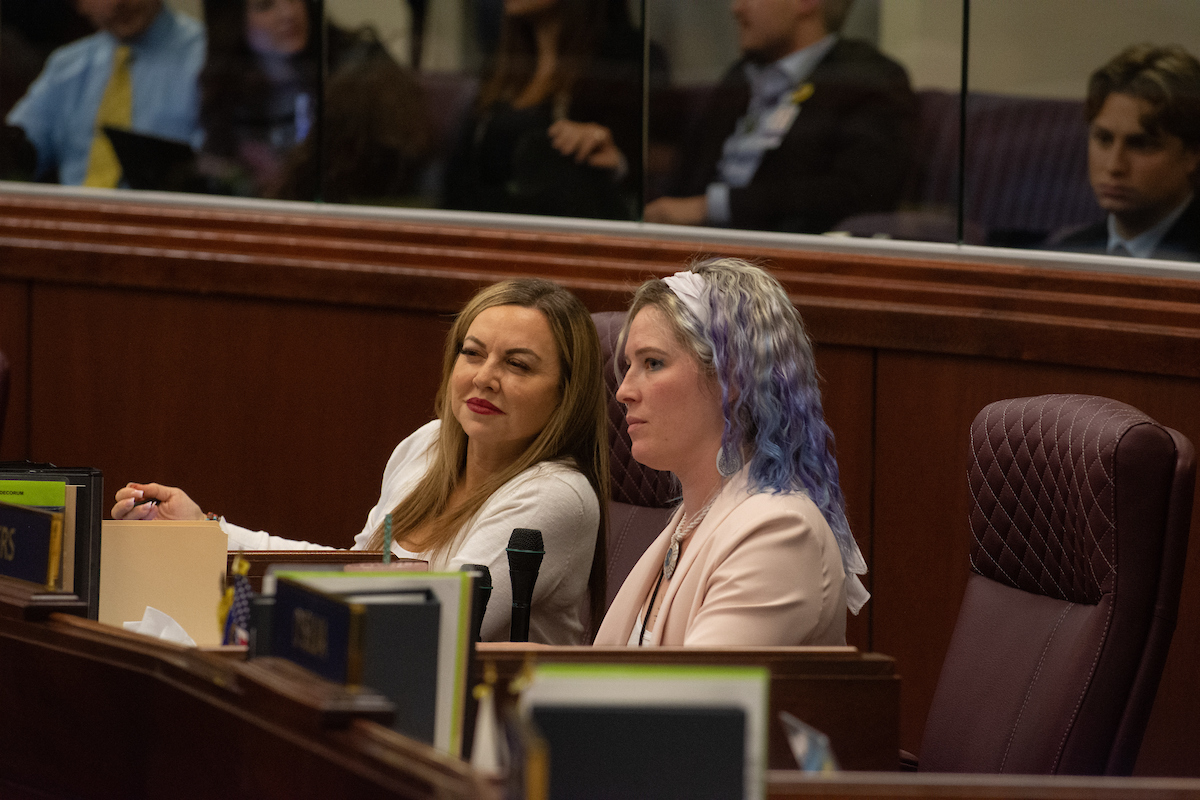 Children
As new babies graced the statehouse this session, Treasurer Zach Conine fell short in his push for a policy that aimed to invest in Nevada infants in an attempt to address the state's growing wealth inequality.
AB28, a bill that would have created $3,200 "baby bonds" for low-income families in Nevada, was amended near the end of the session into a more limited, yearly lottery program, but died after being placed in the secretary's desk in the Senate. The bonds would have been invested by the state treasurer until the beneficiary turned 18, when they could use it for expenses such as tuition or buying a house. The bill passed on party-line 28-14 vote in the Assembly, with Democrats in support.
Other children-centered policies that failed included Assemblywoman Sabra Newby's (D-Las Vegas) AB445, a bill that would have awarded tax abatements to businesses that provide mental health services for children. The bill passed out of a policy committee but was referred to a budget committee, where no further action was taken.
Assemblywoman Claire Thomas (D-North Las Vegas) sponsored two children-centric bills that died in the Assembly Ways and Means Committee. That included AB113, which would have created an Office of Early Childhood Education within the governor's office, and AB168, which sought to establish a Fetal and Infant Mortality Review Program that would have required research and review of the deaths of fetuses and infants in Nevada hospitals.
Lawmakers also failed to advance AB338, a bill sponsored by Assemblywoman Sarah Peters (D-Reno) that would have extended Medicaid coverage to art therapy services such as music, drawing, dance and art.
After receiving three amendments, AB386, which would have increased regulations of midwives and established a Board of Licensed Certified Professional Midwives, passed out of the Assembly but failed to receive a two-thirds majority vote in the Senate, which is required for any policies that increase revenue.
The policy was reintroduced by Assemblywoman Daniele Monroe-Moreno (D-North Las Vegas) after it failed to pass in 2021.
Immigrant community
This legislative session, the UNLV Immigration Clinic, which provides free consultations and deportation defense for undocumented immigrants, sought a funding boost from lawmakers. AB382, which would have appropriated $2 million to the clinic, did not make it out of its first committee, but AB328 passed both houses and is headed to the governor's desk. That measure would appropriate $1 million over the next two fiscal years for the immigration clinic to continue offering services and hire permanent support staff.
AB336, which would have changed the expiration date of driver authorization cards to every eight years instead of every four years (aligning the schedule to a regular driver's license) failed to advance after being approved by a first committee.
Driver authorization cards allow people to drive legally, even if they do not have the documents required for a driver's license, such as a Social Security number.
SB373, a bill from Sen. Edgar Flores (D-Las Vegas) that would have required state agencies to provide "vital information" and documents in the 12 most common languages spoken in the state, did not make it out of a budget committee.
Two other language access bills — AB480 (appropriating $25 million in state funds to expand language accessibility in state agencies) and AB246 (expanding the languages in which election materials are available based on a county's population) — were approved by the Legislature.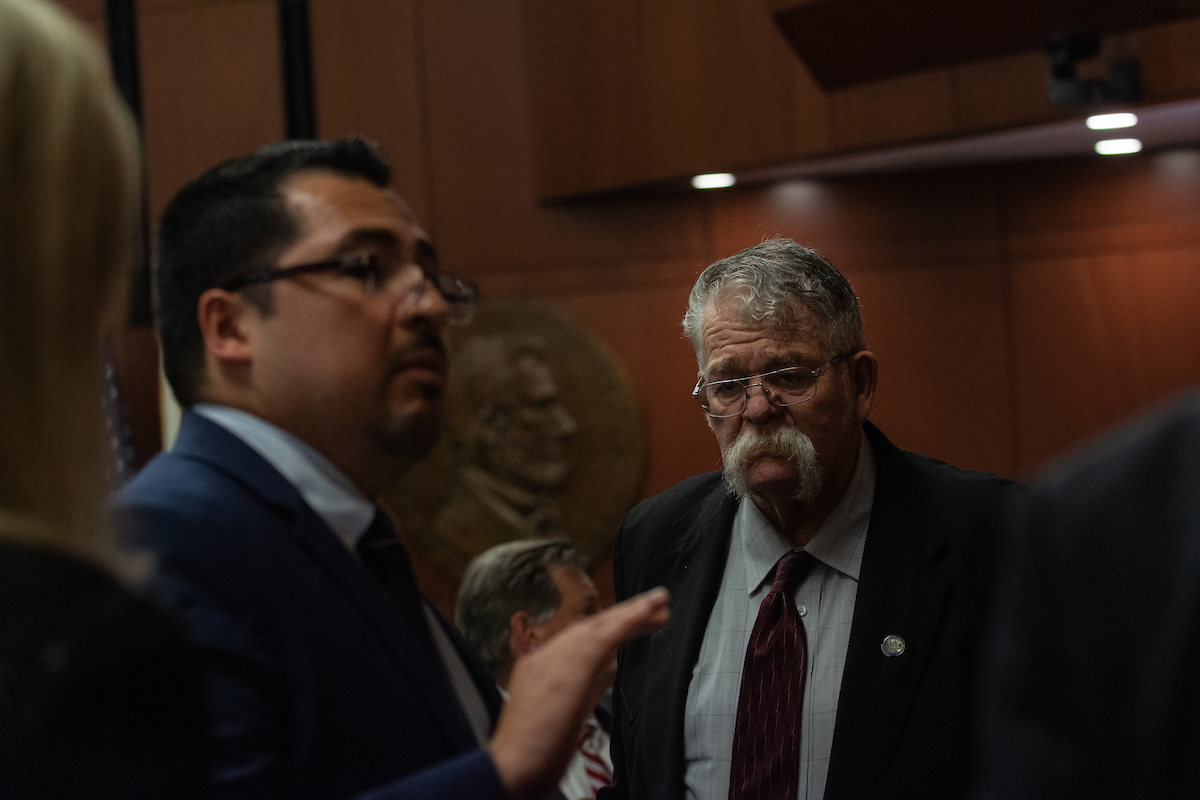 Water rights retirement program
Lawmakers failed to move SB176, widely supported water legislation sponsored by Sen. Pete Goicoechea (R-Eureka) that aimed to create a state program to buy and retire water rights in areas of the state where there are more legal entitlements to water than there is water to use.
The legislation, as originally written, would have appropriated $5 million from the state's general fund to a new program allowing the state to buy back water rights and address overuse in many parts of the state. Goicoechea and supporters, including several environmental groups, scaled down the request to the $250,000 in annual funds needed to operate the new program. From there, the program could accept federal funding, grants and donations to purchase water rights.
Despite support from a wide array of water users, environmentalists and progressive groups, the legislation did not move forward and failed without a vote in both legislative chambers.
Other bills
A plan from Sen. Dina Neal (D-North Las Vegas) to tax online products failed to advance. SB396 aimed to update the tax code to reflect, for example, how music used to be purchased on CDs and cassette tapes but is now streamed online. The bill had passed out of a policy committee but was referred to a budget committee, where no further action on it was taken.
Lawmakers also dropped an effort to employ tribal liaisons at state agencies. SB94 called for staffers who would "ensure open and consistent communication between each Indian tribe" in the state and each state agency. The bill passed out of a policy committee and was heard in the Senate Finance Committee in late May, but never advanced to the Senate floor.
Assemblywoman Claire Thomas (D-North Las Vegas) introduced two Juneteenth bills, but AB409, which would have created the $1.6 million state funded Juneteenth Educational and Economic Commission to allocate money toward Juneteenth "Freedom Day" programming, died in the Assembly Ways and Means Committee.
Assemblyman C.H. Miller (D-Las Vegas) introduced AB253 that would have created a cannabis concierge license for temporary cannabis events in an attempt to lower the barrier of entry into the commercial cannabis market in Nevada.
The bill made it out of its first house with bipartisan support but later died in the Senate Finance Committee.