By Sean Golonka & Eric Neugeboren, The Nevada Independent, October 1, 2023
New laws increasing criminal penalties for fentanyl trafficking and stealing catalytic converters are part of the more than 100 bills passed earlier this year that took effect in whole or in part on Sunday.
That subset of the roughly 540 bills signed by Gov. Joe Lombardo after this year's 120-day legislative session also includes stronger restrictions on pet restraints and changes intended to improve health care for those incarcerated in the state's prisons.
On another key date earlier this year, July 1, more than 200 laws took effect, including a law that expanded insurance coverage of gender-affirming care. Read more about those laws here.
Here's a look at some of the new laws in effect as of Oct. 1:
HEALTH CARE
AB404: Medical malpractice lawsuit changes
While the key part of this landmark bill — increasing the monetary cap on pain and suffering damages in medical malpractice lawsuits for the first time in two decades — will not take effect until January, the measure does make a pair of changes to medical malpractice litigation beginning this month.
For injuries or wrongful death caused by medical malpractice on or after Oct. 1, a plaintiff will have up to two years after they discover or should have discovered the injury, rather than one year, to bring forward a lawsuit.
Attorneys representing victims of medical malpractice are also now allowed to collect fees up to 35 percent of the recovered damages. Previously, attorneys could collect fees through a tiered system, adjusted depending on the amount recovered. Under the new system, an attorney could collect a higher share of fees from their client for any awards of about $120,000 or more.
AB404, a committee bill, represented a compromise in a long-running feudbetween the state's doctors and trial lawyers over the medical malpractice law.
SB280: Expanding access to IUDs
This law, brought forward by Sen. Rochelle Nguyen (D-Las Vegas), requires a hospital to, upon the request of a patient giving birth at the hospital, provide for the insertion or injection of long-acting reversible contraception (LARC) — which includes intrauterine devices (IUDs) or arm implants that prevent pregnancy for a certain number of years.
Supporters of the bill said the change would expand access to LARCs and that post-pregnancy is an ideal time to insert a LARC, also noting that it can prevent riskier and unplanned pregnancies shortly after another birth, wouldn't require following up with a separate appointment for insertion and could be less painful if the patient is already anesthetized by an epidural.
The requirement does not apply if the contraception should not be used on the patient or if a health care provider determines the contraception would create an unreasonable risk to the patient. A religiously affiliated hospital can also object to the requirement, but would still be required to notify patients who are giving birth if they do so and are required to refer the patient to another provider if the patient requests the contraception.
CRIME AND PUBLIC SAFETY
SB35: Increased penalties for fentanyl trafficking
There are now higher penalties for trafficking large amounts of fentanyl or fentanyl derivatives. Under the law, possession of 28 grams to 42 grams of the drug (down from 100 grams) will be considered low-level trafficking and punishable by one to 10 years imprisonment, with escalating penalties for possession of greater amounts of the drug.
The law, which was supported by Attorney General Aaron Ford and Senate Majority Leader Nicole Cannizzaro (D-Las Vegas), also establishes greater penalties for anyone who knowingly sells drugs containing fentanyl and who does not notify the buyer — a provision bill supporters described as a response to the opioid epidemic that has seen thousands of Nevadans die by drug overdose.
Read here for more about the fight over the law, or listen to the IndyMatters podcast.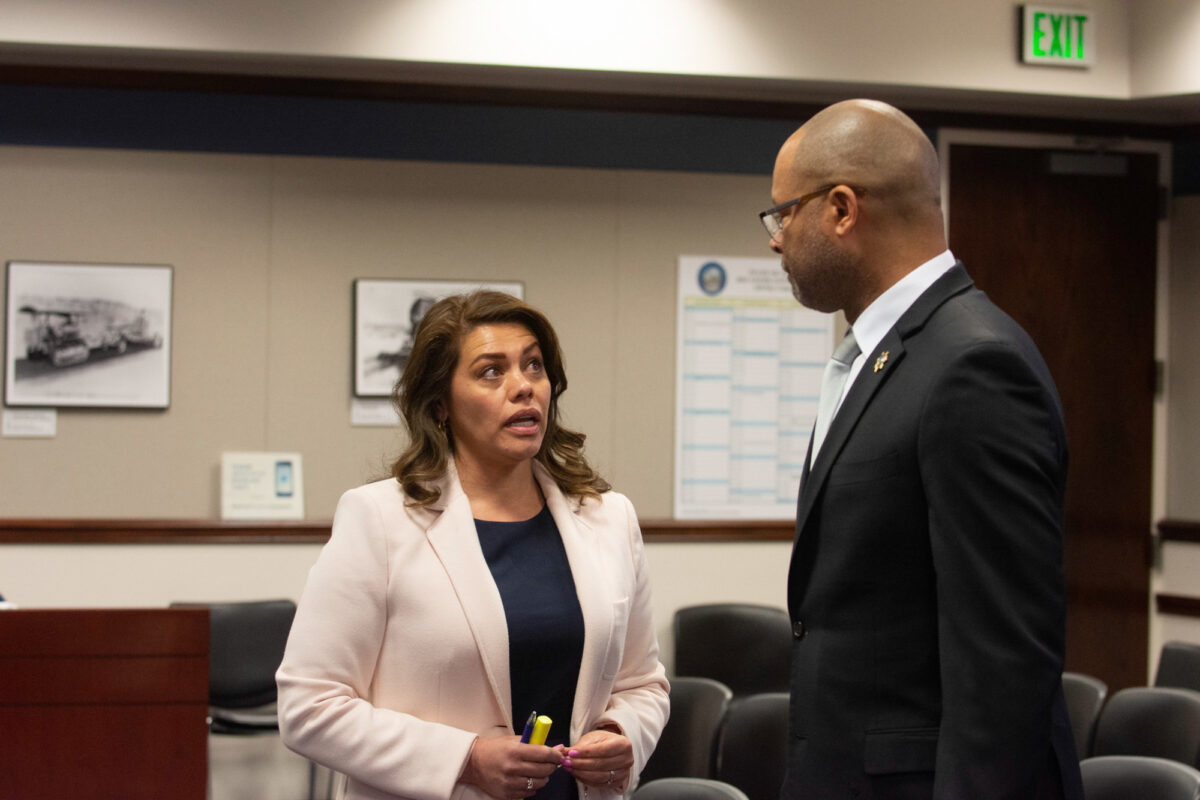 SB243: Increased penalties for stealing catalytic converters
Intended as a response to a growing trend of catalytic converter thefts across the state, this law, sponsored by Nguyen, increases penalties for stealing the auto part and makes it illegal to own two or more used catalytic converters unless the person is licensed as an automobile wrecker, scrap metal processor or another relevant profession.
Catalytic converters can cost hundreds to thousands of dollars to replace and are used to cut vehicle emissions and help engines run more efficiently. These auto parts have been targeted because they contain precious metals.
Penalties escalate depending on the number of catalytic converters possessed, with possession of 10 or more punishable by one to five years imprisonment and a fine of up to $10,000.
AB408: Allows police to tow vehicles for reckless driving
This law takes aim at so-called "trick driving" — reckless driving involving vehicle stunts — by allowing law enforcement to remove a vehicle from the road without having to arrest the driver if they are issued a citation for reckless driving.
The bill sponsored by Assemblywoman Tracy Brown-May (D-Las Vegas) also expands locations where trick driving is prohibited from public highways to more generally "premises to which the public has access," such as a store parking lot, where law enforcement have encountered such stunts.
SB225: Cannabis for cops
This law — primarily intended to prevent officers who have been decertified, or had their license revoked for misconduct in Nevada or another state, from being hired as police officers by other agencies — prohibits law enforcement agencies from barring prospective peace officer applicants for using cannabis prior to submitting their job application.
And while the law brought forward by Sen. Dallas Harris (D-Las Vegas) still allows agencies to screen for cannabis use as a condition of employment, the law also requires the Peace Officer Standards and Training Commission to adopt standards that do not require a police officer to be decertified solely for cannabis use.
PRISONS
AB292: Better health care for women in prison
Under this law, women incarcerated in Nevada prisons will receive free feminine hygiene products and access to certain medical and behavioral health services.
The legislation, sponsored by Assemblywoman Cecelia González (D-Las Vegas), also mandates prisoners who are pregnant to receive proper medical services, including services before and after childbirth, and prohibits male prison staff from inspecting women prisoners who are undressing, except in limited circumstances.
The bill's original draft included many specific references to gender identity. It allowed incarcerated people to be searched only by staff who have the same gender identity as them, and required prison officials to address prisoners in a way consistent with their gender identity.
All references to gender identity were scrapped from the final bill.
SB416: Fee changes at Nevada state prisons
Although the final bill does less than what criminal justice advocates had pushed for, SB416 removes medical co-pays for incarcerated people and eliminates room and board fees — set at 25 percent of wages — for those working while in custody.
The law means Nevada will join 11 other states in not charging medical co-pays for incarcerated people. The state previously had the second-highest medical co-pay for incarcerated people, according to the Fines and Fees Justice Center.
The law also codifies an existing policy by the Nevada Department of Corrections (NDOC) to remove markups on hygiene items and sell them at cost.
The original bill was a much more comprehensive overhaul of NDOC's financial practices. That measure would have, in part, increased the amount of money a prisoner receives upon release from $25 to $100 and eliminate prisoner debt — such as medical debt accrued while incarcerated — upon release.
HOUSING
AB135: Helping people experiencing homelessness obtain birth certificates
Nevada law previously mandated that those experiencing homelessness must sign an affidavit that they are homeless to receive a copy of their birth certificate.
Now, they only need to sign a statement, under penalty of perjury, that they are experiencing homelessness to receive a copy of their birth certificate within 30 days. Unlike affidavits, the signed statements do not need to be notarized. It's a change advocates hope will make it easier for people experiencing homelessness to replace lost vital documents.
The original version of the bill would have required Clark and Washoe counties to develop a plan to address homelessness before the start of the next legislative session. That language was removed in an amendment.
SB155: Programs for people charged with misdemeanor homelessness offense
This heavily amended bill allows people experiencing homelessness who are charged with misdemeanors to enter diversionary court programs and not be subjected to certain fines. The programs help remedy behaviors that led to an arrest and often involve rehabilitation efforts.
The bill, sponsored by Sen. James Ohrenschall (D-Las Vegas), originally would have prevented local governments from banning homeless people from sleeping outdoors or accepting food. Those provisions were ultimately removed from the legislation.
SB368: Removal of racist covenants from housing documents
Nevada homeowners can now petition a judge to remove racist covenants from their housing documents.
Many housing documents still include racist covenants that forbid non-white people from living in certain communities or buying homes. Researchers from UNR have estimated there are thousands of such covenants in Washoe County.
The law, sponsored by Harris, also requires county recorders to remove the racist covenants from new housing documents at no cost.
In 2017, the Legislature created a new form that allowed residents to voice their opposition to the racist language. But residents could not formally remove the covenants from their housing documents.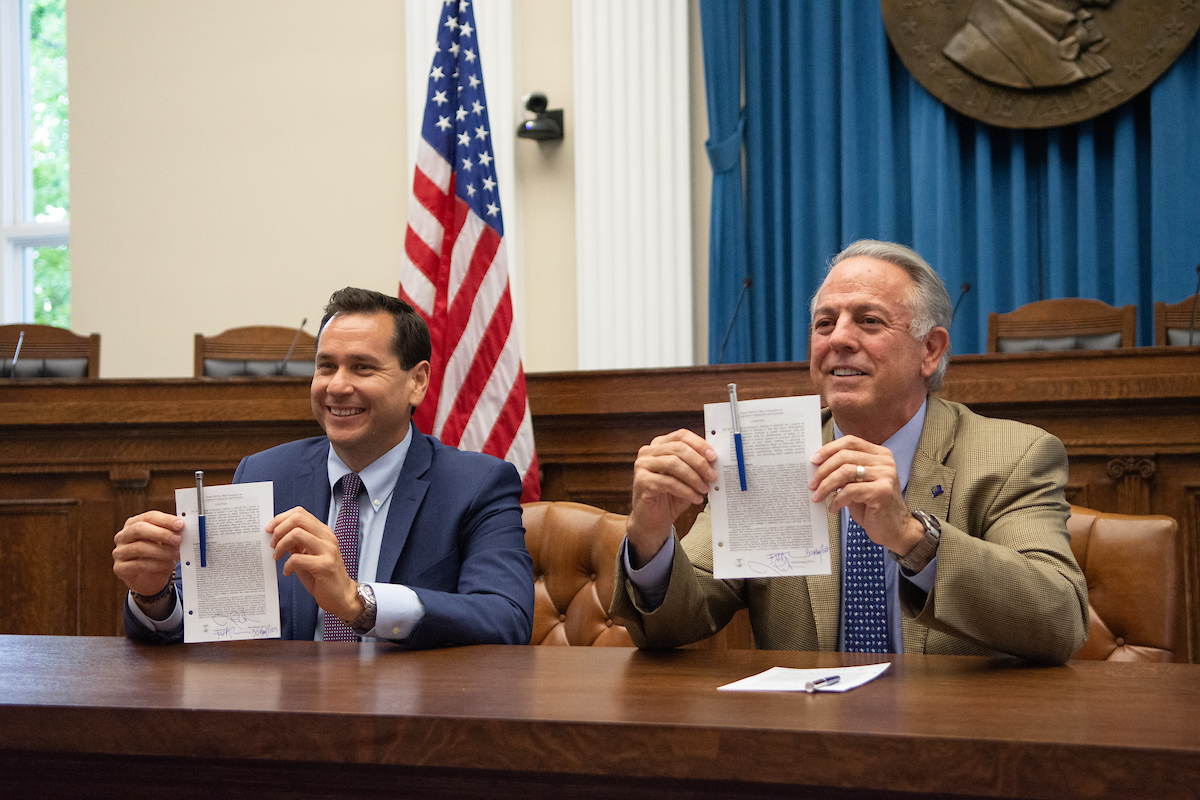 ELECTIONS
SB406: Fundraising restrictions for state officers, election worker protections
A top campaign priority of Secretary of State Cisco Aguilar, a portion of this bill from his office implemented increased criminal penalties for threats or harassment against election workers in May. But starting Oct. 1, it also sets new restrictions that prevent constitutional officers — including the secretary of state and attorney general — from fundraising for their re-election campaigns during the 120-day legislative session.
Previously, only the governor and lieutenant governor were barred from raising campaign funds during sessions.
SB327: Expanding election access for tribal members
For future elections, this law, sponsored by Ohrenschall, requires local election officials to establish a polling place and ballot drop box within the boundaries of each Indian reservation in the state, unless the tribe requests not to have one or does not provide certain information.
Additional polling locations or drop boxes can be established, if requested by the tribe.
Beginning in the 2022 election cycle, tribes could request that a polling location, ballot drop box or both be established within the boundaries of a reservation or colony. The state's tribes have historically faced significant barriers to voting.
OTHER
SB269: Animal cruelty restrictions
This law, sponsored by Ohrenschall, adds stricter restrictions on animal restraints.
Previously, it was illegal for a person to restrain a dog — such as using certain chains, ties or choke collars — for more than 14 hours in a 24-hour period. It's now illegal for such restraints to be imposed for more than 10 hours in a 24-hour period.
The restrictions — which also mandate appropriate sizes for outdoor areas for animals — previously did not apply to animals being kept in a boarding facility, but the new law removes that exemption. Animals that were staying in a camping area or part of a rescue operation were also completely exempt from those restrictions, but the new law limits the exemption to one month.
AB299: Medal of Distinction
One living and one deceased Nevadan will be honored annually with the state's new Medal of Distinction, under this law brought forward by Assembly Speaker Steve Yeager (D-Las Vegas).
A nine-member committee — composed of people chosen by state officials including the governor and Supreme Court chief justice — will select the annual winners. The governor will also appoint five people to the Nevada Awards and Honors Board, which will oversee the design and creation of the medal.